Kit d'éclairage de 30W Mini Fm Radio solaire
MTO-SL216FM
1. About30w Mini Fm Radio solaire éclairage Kitdescription :
Remote control
Radio remote Controller
Solar Panel
1pc 18V30W polycrystalline panel+ 5m cable
SMF lead Acid Battery
1pc 12V20Ah rechargeable
Lamp
2pcs LED 3W lamp + 5m cable of each bulb
USB port:
2pcs 5V output for mobile, MP3,MP4, digital camera charging
Indicator
LEDs 25%, 50%, 75%, 100%
Fully charging time
About 8 hours
Lighting time
2pcs bulb: 28 hours; 4pcs bulbs: 14 hours; 6pcs bulbs: 9.5 hours
Size
Elec. box: 224*109*190mm Panel: 505*465*25mm
Weight/ctn
(Power box) N/W:25kg, G/W:26.00KG/3sets;
(panel) N/W:12.80kg, G/W:14.30kg/3pcs
2. caractéristiques de 30w Mini Fm solaire Radio Kit d'éclairage :
* Radio /Bluetooth/ casque / carte TF / U disque flash
* Accueil éclairage / Camping éclairage / secours éclairage
* Mobile / MP3 / MP4 chargeur
* Indicateur de puissance pour rappeler le pouvoir est resté
* Deux modes de charge. Par panneau solaire ou adaptateur CA / CC
* Plug and play kit solaire avec poignée
* Contrôleur d'éclairage solaire automatique : avec exécution réglable, protection contre les surintensités
3. images montrent de 30w Mini Fm Kit éclairage Radio solaire :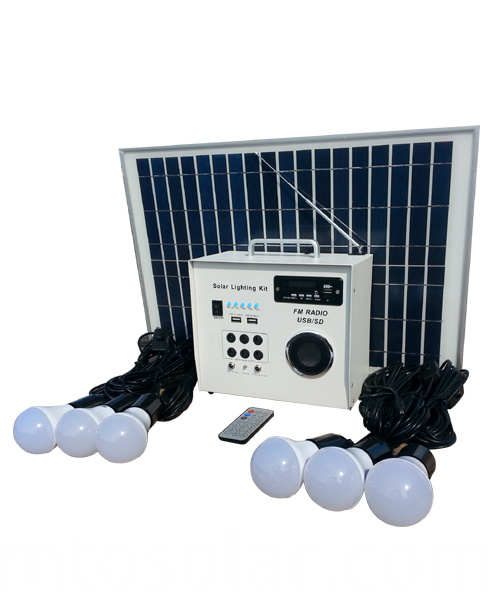 4. emballage et expédition :
Packaging
3pcs/ctn(for power box & solar panel)


carton size: 545*300*495mm(power box)

550*185*470mm(solar panel)

20ft container loading: 218 cartons(654 pcs)
40ft container loading: 450 cartons(1350 pcs)
Échantillons devrait être envoyés dans les 5 jours après paiement ; Ordres formels seraient expédiés dans les 25 jours après paiement.
Groupes de Produits : Système d'éclairage solaire avec Radio FM